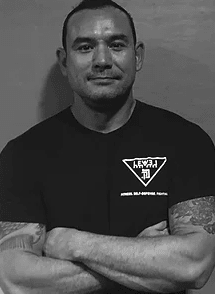 Daniel Sartain
Dan works as a Manager of Network Operations and Engineering with a Bachelor's Degree in Electrical Engineering and enjoys spending his free time with his family.
Dan is a Level 5 (Brown Belt) practioner, Krav Maga Alliance Certified Instructor, and StrikeFit Coach. Dan also has a background in Tae-Kwon-Do, Kokondo Karate and Jukido Jujitsu. He has been fortunate enough to train with many different instructors from different organizations, not made from the same cookie cutter. Each of them bringing their own perspective, helping him shape his own.
Dan started training Krav Maga in 2006, where he found it to be a fun way to get fit while serving a dual purpose activity that delivers a valuable skill set (protect myself, loved ones and others).
"I want to be able to help others live life full of confidence and at peace. I love being a part of the change that happens in a student's personality, as Krav Maga instills the confidence and never quit attitude in them (both in and outside the gym)." - Dan Sartain