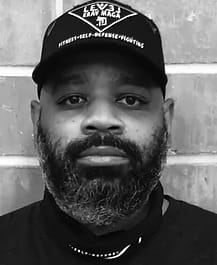 Joseph Pete
Joe found Krav Maga in 2014 while searching for a fun way to add cardio to his weight-training routine. He was so impressed by the system after the intro class that he signed up right away and began training several days a week. Joe spent some time with Brazilian Jiu-Jitsu and Muay Thai so he was not a stranger to striking and ground-work, but those systems aren't specifically for self-defense.
Joe became a Krav Maga instructor as a personal development goal, but quickly realized how much he enjoyed teaching people the tools to protect themselves and their loved ones. He is a certified instructor for both Krav Maga Alliance and Krav Maga Worldwide.
When he's not teaching or training for his Black Belt, Joe is a proud father and a Director in the Process and Technology practice at an energy consulting firm.